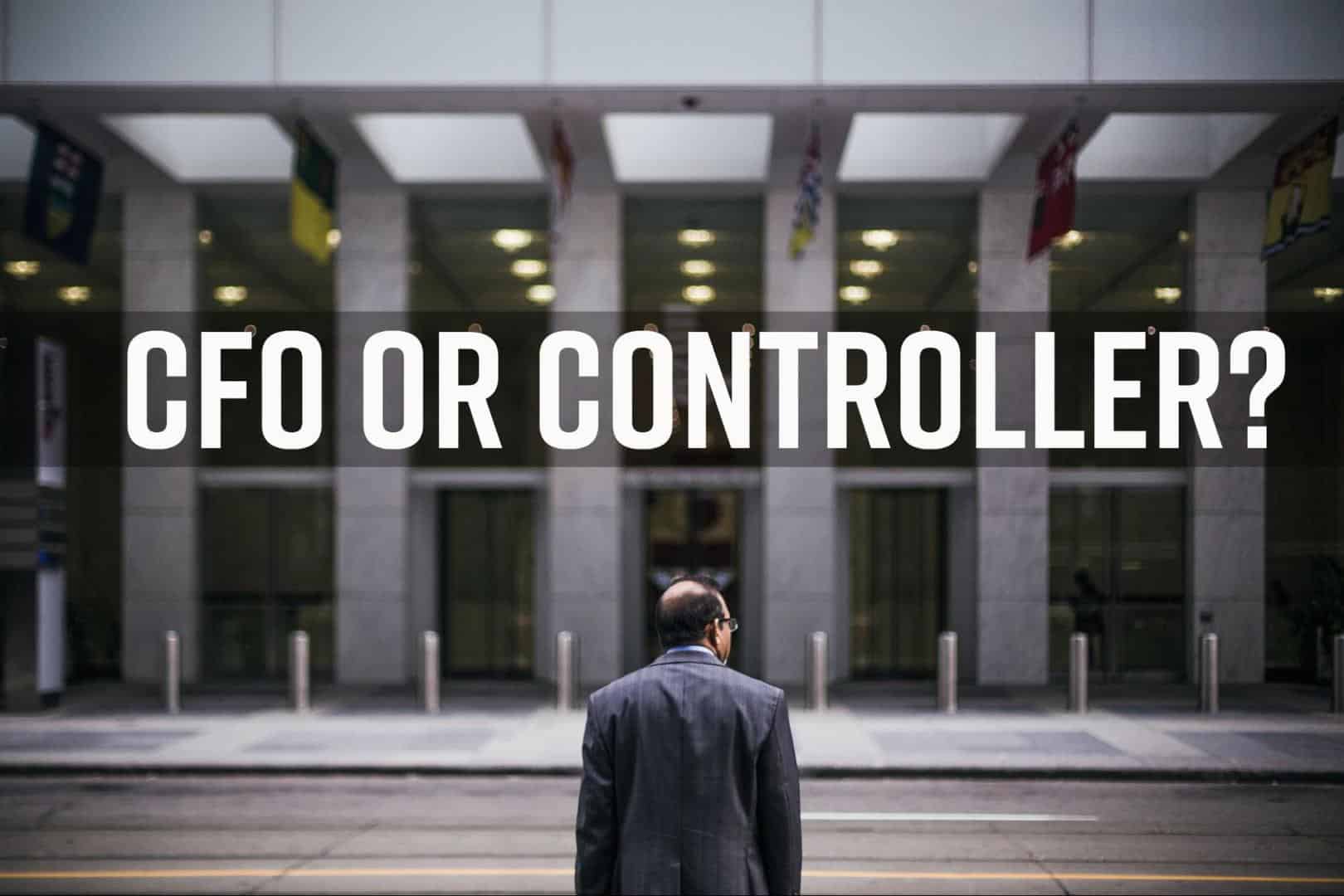 Starting a business can be both an exciting and a stressful experience. You undoubtedly experienced the pains and frustrations that come with starting a business, but you will experience a different kind of tension as your business grows.
If you've moved beyond the phase of finding consistent customers, building relationships with suppliers and securing distribution, you will have new problems to overcome.
One of those problems is understanding and handling the increasingly complex finances of your organization. This frustration always leads to the question: is it better to hire a controller vs. a CFO?
More importantly, what is the difference between a controller vs. a CFO?
This is more than a simple difference in language. Knowing the answer to this question is essential for the financial future of your company.
Role of a
Chief Financial Officer (CFO)
A CFO provides financial leadership for your company. CFOs provide short-term and long-term financial planning, giving founders and CEOs the financial guidance they need.
They are able to analyze complicated financial data and understand how the company has performed while helping form a vision for where it could go.
CFOs most often have an accounting and finance background. This gives them the ability to get into the weeds when necessary, but also see the big-picture to discern your company's financial strengths and weaknesses. They have the vision to play to your strengths while shoring up your weaknesses, making your whole organization stronger.
Your goals are unique to your business and shouldn't mirror those of another company simply because they've achieved the success you want. A CFO will create Key Performance Indicators (KPIs) that are unique to your company.
They bring surety to business decisions with their financial wisdom. Hiring a CFO means you will have someone on your team who can work closely to guide you towards the moves you can make right now, and what should be reserved for the future. They will also be able to partner with you to set your company on the path towards that future.
CFOs achieve this by helping you plan and execute a workforce reduction or turnaround if it's needed. No one wants to take part in this kind of strategy, but a good CFO can help you minimize loss in every area throughout the process.
They can also improve your relationships with investors and lenders, giving you the ability to execute on that merger or acquisition that's been on your mind. Improved relationships will also help you handle any unexpected problems with your bank.
Interested in learning more? Check out these blogs:
Role of a Controller
A CFO has the ability to understand, interpret and make plans from looking at financial data. A controller has the organization and attention to detail to create the financial report the CFO reads. 
Although these roles work closely, the controller is traditionally removed from the decision making process. 
They have an accounting background which gives them the ability to handle the record-keeping and give timely advice about which accounting software will be the best fit for businesses in different industries. 
These people are experts at leading the accounting process. They manage the team of accountants and bookkeepers, helping them meet deadlines and close out months, periods and years. 
Efficient controllers can even reduce the amount of time it takes to close financial periods through combining leadership and advanced accounting knowledge that your bookkeeper may not have. 
You may have heard the title "comptroller" used to describe the role of a controller. A comptroller is simply a controller who works in a government office. 
Now that you know the difference between a controller and a CFO, you need to determine the feasibility of hiring a CFO vs. a controller.
Make Informed Business Decisions
Put our financial leadership to work at your business with a fractional CFO.
When Do You Need To Hire a
Controller or CFO
?
The answer to this question depends on the logical next step for your business. A simple way to understand when it's time for a controller versus a CFO is to look at your company's finances. 
If you are between $500,000 and $1 million in revenue, you can probably get by with some guidance from your outside CPA. Most businesses aren't overly complicated at this level. 
However, if you are at or above $5 million, it's definitely time to consider a full-time or fractional controller or CFO. Your finances have certainly reached a level of complexity by that point that requires a keen financial mind. 
A controller will bring organization to your accounting process. He or she will make sense of the many complexities involved. 
You may already have a solid grasp on your accounting processes on your own, but you need someone who can offer strategic vision. 
By now, you know this requires a CFO. 
This decision also differs from industry to industry. If you are a manufacturing business, you might be able to wait a bit longer to bring in a controller or CFO. 
But if you offer software-as-a-service (SaaS), then you may need financial oversight and vision much sooner, due to the earlier emergence of complexity in subscription based services.
Accelerate your growth with SaaS CFO services today!
Making sure your business finances are in order is essential for success. Try our SaaS CFO services today and see the difference they can make! 
Role of a CFO in Your Company
If you know you need help in your business and accounting department right now, but you also know you aren't ready to commit to hiring a full-time role, you should consider a fractional CFO. 
Michigan CFO will join your team on a recurring cadence to help you understand where you are financially and set realistic goals. 
We can also give you even more context on the difference between a controller and a CFO.
Start your journey to an improved financial strategy with experienced financial leadership from a trustworthy partner. Contact us today for more information.